Tubes



Components



Transformers



Enclosures



Wire



Tools



Vanity Parts



Kits


Suppliers:
Antique Electronics Supply the the premiere location for all things tube related. As far as I am aware, they are the best source for tubes, transformers and parts for restoring your vintage amp. Their prices are some of the best on certain items, but a little high on others. I would recommend them for almost everything except general components like resistors and capacitors.

---
Mouser Electronics is the place for all your general components (resistors, capacitors), pots and switches. They also carry every other components under the sun. They have LOW pricing for small volume to large volume. Did I mention that the shipping is excellent?

---
Hoffman Amplifiers is the place I get my board building material. Hoffman sells it at a reasonable price and will cut to length. They also have some great tools for making professional boards. The eyelets are top quality and not much more expensive than buying them in bulk through Keystone (Mouser distributes Keystone products). Hoffman also has "garage sale" items and other tube amp specific items for sale.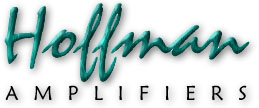 ---