This Carvin combo amp is in some serious need of repair. It still has a couple Sylvania USA tubes in it, but the tubes do not all match. It seems to be nearly 100% original, but until I get I closer look I will not know. This is another piece that is hard to get information about. So far it will not power on, but the fuse is broken, and a new fuse could cure it. I plan to take the amp out of the enclosure to test it as I power it on in case I find a short. When I removed the fuse receptacle, someone had bypassed the fuse with a piece of metal foil which makes me wary to just throw in a new fuse right away.
Pictures: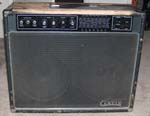 Here is the front of the before. Notice the full band equalizer.

This shows some of the wear on the tolex...that will have to be redone!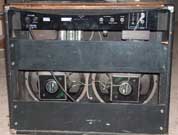 Here is a nice shot of the back, the power tubes (EL34 X 4) are pulled. It is easy to see the wear from this shot....it will all look new soon!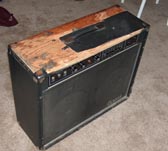 Here is one more from the other angle. The tolex came off, but the wood is in very good condition so it shouldn't be too difficult to repair.
So what was wrong with this classic amp? Pretty much everything that could go bad or wear out was bad or worn out. I didn't replace the grill cloth. Despite what the pictures might show, it was actually in very good condition, and similar cloth proved to be very difficult to find.
| | | | | | |
| --- | --- | --- | --- | --- | --- |
| Description | Manufacturer | Distributor | Part number | Cost (ea) | Quantity |
| | | | | | |
| EL34 Power Tubes | JJ/Tesla | Antique | EL34 | 10.9 | 4 |
| 12AT7 preamp tube | JJ/Tesla | Antique | 12AT7/ECC81 | 8.85 | 1 |
| 12" speakers | Celestion | Matt P | G12M | 60 | 2 |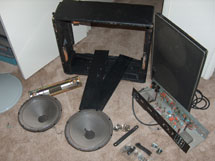 Here are the parts of the amp pulled apart.
This is a picture of the inside of the amp. I was a little disapointed to see that is was put together with so little organization. It made it difficult to work on.

This is a picture of the finished piece. I know the grill looks dirty, but that is just the light. I chose not to replace it because of the extreme amount of labor requred due to the specific construction of the grill.