Gibson GA 15 RVT: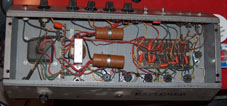 This is my uncle's amp from the 1960's. It is a very nice little amp, but was experiencing a horrible hum and a couple of the pots were frozen. I replaced the two brown filter caps with a JJ brand 4 section capacitor and the pots with new Alpha pots of the closest available value. I also put in new JJ tubes. I, did not take any pictures of the outside of the amp, but I will try to when I visit my uncle again.
Pictures: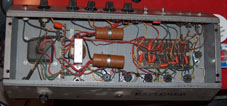 Full picture of the inside of the amp.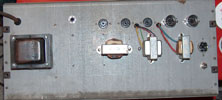 Picture of the chassis bottom view with tubes removed.
More pictures when I get them.